By Julia Zeh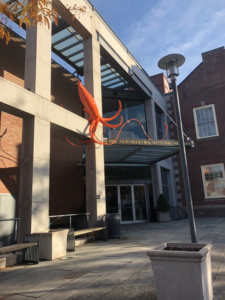 The front entrance to the New Bedford Whaling Museum, where the 2018 North Atlantic Right Whale Consortium Meeting was held.
There are 411 remaining North Atlantic right whales. For me, the North Atlantic Right Whale Consortium Meeting was a sobering experience. I attended the meeting at the New Bedford Whaling Museum in November with Julia Dombroski and Dr. Parks. The first few hours of the meeting were spent recounting all of the deaths and injuries to right whales this year, replete with images and necropsy reports. I saw pictures of entanglements, of hemorrhaging deep into the blubber of a whale who was struck by a ship, of a decomposed whale found floating offshore, of weird growths caused by rope tightly wrapped around a dead whale's flipper. These were pictures that would make most people queasy and which deeply upset me. In a room full of people who care very deeply about these callosity-covered giants, I learned about the unsustainable mortality rate of right whales off the east coast of the United States.
This was my first time attending the North Atlantic Right Whale Consortium Meeting, which is why I was considerably more sad during the mortality and injury presentations than most of the other attendees. In fact, I think most people were actually happy to be hearing about only three right whale deaths this year as opposed to the fifteen (!) deaths they would have had to hear about last year.

A blue whale skeleton hanging from the ceiling at the New Bedford Whaling Museum. Spot the model of the blue whale heart (below) and the drone flying above the blue whale!
It's difficult to hear about all the ways in which right whales are dying and it's concerning to think about what the future holds for the species. But, at a meeting like this, it's also inspiring to see so many people actively working on right whale conservation. I had the opportunity to hear from experts in the field who have been studying right whales for decades and whose names I immediately recognized from their countless papers. It was exciting to be introduced to a community I will be working with, and to see Dr. Parks as the expert everyone else was excited to meet! Hearing so many great presentations from scientists, conservationists, and people in industry, I still remain optimistic for right whales – they have a great group of people working to help them.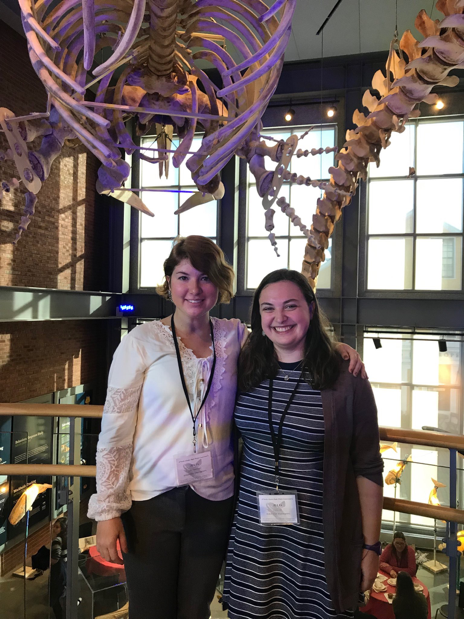 Julia and Julia (I'm the Julia on the right!) pose in front of a North Atlantic right whale skeleton at the museum.
One of my favorite parts of the meeting was hearing from the Calvineers, a group of middle school students from Maine who presented posters on their group's history as well as the potential for ropeless fishing to help right whales. I got a chance to talk to some of the Calvineers about what they do and why they got involved and it was great to hear from the next generation of scientists and legislators who have the opportunity to get inspired and have fun learning about right whales so early on in their education. The Calvineers are named after a right whale named Calvin, whose inspiring story the students recounted to me. When Calvin was just 8 months old, her mother was struck by a ship and died. But Calvin survived, growing up to endure an entanglement, be the subject of a rescue mission, and give birth to her own calf, Hobbes. The Calvineers even have a song dedicated to Calvin, which they sang for us during the meeting.
After the meeting, I returned to Syracuse from seaside New Bedford with my head full of names of people I had met, resources available for studying right whales, and exciting methods I'd heard presentations on. With my brain working on overload, I was excited to dive into my own right whale acoustics research.
Also, congratulations to Julia for winning the Endangered Species Print Project Student Travel Award for her poster on "Dive Behavior of North Atlantic right whales on the southeastern US Calving grounds"! I'm glad I got to attend the meeting with two right whale superstars!